Chinese Man Jailed For Selling VPNs that Bypass Great Firewall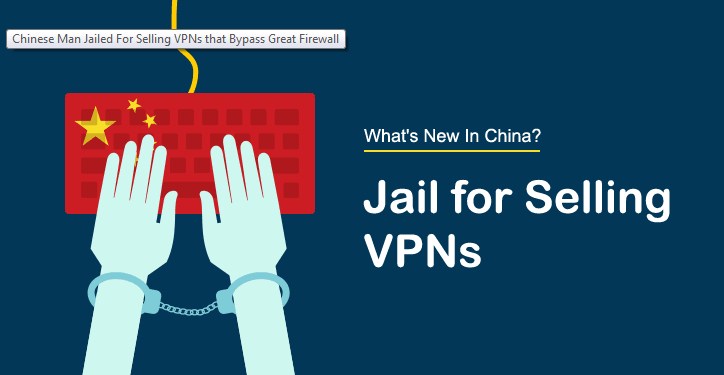 In an effort to continue its crackdown on VPNs, Chinese authorities have arrested a 26-year-old man for selling VPN software on the Internet.
China's Supreme Court has sentenced Deng Jiewei from Dongguan in Guangdong province, close to Hong Kong, to nine months in prison for selling virtual private network (VPN) software through his own small independent website.VPN encrypts users' Internet traffic and routes it through a distant connection so that web surfers can hide their identities and location data while accessing websites that are usually restricted or censored by any country.
Chinese citizens usually make use of VPNs to bypass the Great Firewall of China, also known as the Golden Shield project, which employs a variety of tricks to censor the Internet in the country.
The project already blocked access to some 171 out of the world's 1,000 top websites, including Google, Facebook, Twitter, Tumblr, Dropbox, and The Pirate Bay in the country.
But to tighten grip over the Internet and online users, the Chinese government announced a 14-month-long crackdown on VPNs in the country at the beginning of this year, requiring VPN service providers to obtain prior government approval.
The move made most VPN vendors in the country of 730 million Internet users illegal, and has now resulted in the arrest of Deng, who was convicted of "providing software and tools for invading and illegally controlling the computer information system."
According to the court documents posted on the China's Supreme People's Court website, Deng has been selling two VPN services on his website since October 2015, and was first detained in August last year.
Deng along with his partner Jiang Moufeng made nearly 14,000 Chinese yuan (just US$2,138) selling the VPN software, which allowed users to "visit foreign websites that could not be accessed by a mainland IP address."
Deng has been found guilty of intrusions and "illegal control of computer information system procedures," and has been sentenced to nine months imprisonment and fined 5,000 Chinese yuan.
Deng was actually sentenced in March this year, but the online court documents were circulated on a Chinese blog tracking social media trends in China, called What's on Weibo, only on Sunday.
We reported in July that Apple also removed some of the popular VPN apps, including ExpressVPN and Star VPN, from its official Chinese app store in order to comply with the government crackdown that will remain in place until March 31, 2018.