Tag Archives:
cyberoam support number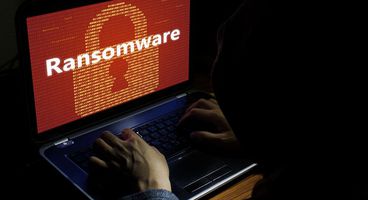 Security researchers have discovered a new variant of the two-year-old JobCrypter ransomware that now features an additional encryption layer and a much longer decryption key, making it more powerful and difficult to evade compared to its earlier variants.
While analysing the ransomware, researchers at Trend Micro also observed that it features the ability to send a screenshot of a targeted device to an email address via SMTP and can even change the wallpaper of infected devices to include a ransom note as well as a display box containing details of ransom demands and instructions.
"Once it finds a file, it encodes all the file's content to Base64 and encrypts the encoded content with Triple DES algorithm, and then encodes the encrypted file again to Base64. It also prepends the ransom note with the encrypted file instead of dropping another file in the system as most ransomware routines do before it finally deletes the original file in the drive.
"The ransom note demands a payment of €1,000 within 24 hours to get the decrypter. The key is made of 67 digits of random numbers between 0 to 9 – found in the registry and body of the sent email – but is deleted by the malware itself during encryption of the files," they noted in a blog post detailing the ransomware's traits.
Commenting on the discovery of JobCrypter's new and more powerful variant, Roy Rashti, cyber-security expert at BitDam, told SC Magazine UK that the earlier variant of JobCrypter wasn't among the most potent ones of its time as it decrypted files with a relatively weak 20-character decimal key which made it conducive to brute-force attack methods.
The original ransomware also displayed several predictable behaviours which made it easy for security professionals to assess the source of the random function which, in turn, made it possible to discover the encryption key in about 10 seconds.
"In the new version, the attackers have significantly improved the encryption method using the Triple DES algorithm and longer keys," Rashti added.
Despite such improvements, the new JobCrypter variant does have an Achilles heel after all. According to researchers at Trend Micro, the 67-digit decryption key required by victims to recover their files is initially stored in the registry and body of the sent email before it is deleted by the malware itself during encryption of the files.
"Since the key used in encrypting the files was in the system prior to deletion, decryption is possible. Experienced cybersecurity practitioners will notice and know that while the routine is unconventional, the ransom note always ends in ";" and is prepended before the encrypted file content, making it possible to recover important data files," they added.
Rashti added that there are more tell-tale signs of the presence of the ransomware before it starts encrypting files stored in targeted devices. The ransomware is usually stored in zip files or business folders that serve as attachments to phishing or spam emails sent to targeted individuals or businesses.
By deploying advanced threat protection solutions that can detect sophisticated threats as well as a reputed endpoint solution, victims of ransomware attacks can prevent their devices from getting infected by the new variant. Considering that the ransomware initially stays dormant and only registers itself to run after a reboot, targeted businesses and individuals will need to be alert at all times to spot/preempt its arrival.   
According to Martin Jartelius, CSO at Outpost24, a simple and easy ways to decrease impact is to ensure that users have write access only where needed, that local users are not administrators on their devices and that the system does not execute software from the temporary internet files or temporary email file folders.
"The most important steps users can take is ensuring that their systems are up-to-date, and they have endpoint protection software with the latest definitions installed. AV vendors and independent researchers are constantly finding and reporting new strains of malware, and it's critical to stay on top of updates to ensure you remain protected from emerging threats. It is also important to take regular, full backups to ensure your data is protected in case of disaster," says Ben Schmidt, CSO at PolySwarm.
Managed Firewall Support Services : – This emergency support service allows your business to function securely without interruption. Our service covers everything from troubleshooting to firewall administration. 
Firewall Firm Managed Firewall Services offer a suite of cost effective methods to meet the most stringent security requirements of our clients. Firewall Firm Managed Firewall Services utilize leading ICSA certified firewalls to provide our clients with the highest-level assurance of network protection and security; and our staff of highly trained certified security experts work with our clients to provide the most effective solution to protect the client's information assets and systems.
Security solutions at IT Monteur is aimed to protect your business from hackers attack and other Internet threats. We aim at running your business smooth without any worry about securing your data. IT Monteur a Firewall Company in Delhi India, provides firewall software and hardware firewall to protect your data from any mallacious attacks and unexpected crises.
Firewall Software and Hardware Firewall solutions are both designed to block unauthorized access to computers in your network. A firewall software program is installed on each individual PC it's meant to protect. To safeguard all your company's computers, however, each one must have a software firewall installed. This can become expensive and difficult to maintain and support. But, a hardware-based firewall is easier to maintain and administer than individual software firewalls. It protect all the computers on your network.
Our firewall security solutions is Combined network and physical security for a more comprehensive approach that meets your needs and that allows you to add integrated protection from hackers, spam, malicious websites, identity theft.
we provide secure access to enable workers at home, at remote sites, or traveling to connect to your business safely and securely Secure storage that gives you the flexible capacity to protect and back up data, video, and images and also provide Physical protection to guard your business and your employees from theft, vandalism, and unlawful access.
Our firewall security solutions Key features:
Standard firewall capabilities: Packet filtering, network address translation (NAT), stateful protocol inspection, Virtual Private Networking
Integrated Network Intrusion Prevention (IPS)
Application Awareness and Control
Additional Intelligence: Directory integration to tie security policies to users and groups; cloud-based reputation services to stop traffic from dangerous sources
Real-time and historical visibility into user, network, and security activity
We are also providing UTM ( Unified threat management ) Firewall Solutions for SMB & Enterprices, Firewall Support, Firewall Support Delhi, Firewall Support in Delhi, Firewall Support Provider Delhi, Noida, Gurgaon – India, Cisco Firewall, Watch Guard Firewall, Fortigate Firewall, Cyberoam Firewall, Firewall Support Provider India
Firewalls, both hardware and software, protect computers from hackers and other online threats by blocking dangerous pieces of data from reaching the system. While hardware firewalls offer network-wide protection from external threats, software firewalls installed on individual computers can more closely inspect data, and can block specific programs from even sending data to the Internet. On networks with high security concerns, combining both kinds of firewalls provides a more complete safety net.
We are providing UTM ( Unified threat management ) Firewall Solutions for SMB & Enterprices
Please Contact us for all type of Cyberoam Firewall  , Quick Heal Terminator , Sonicwall , NetGenie , Juniper , Gajshield , Checkpoint  ,  Websense , Bluecoat , Barracuda ,  Cisco Firewall, Watch Guard Firewall, Fortigate Firewall security solutions. We provide support for setup of Virtual Private Network ( VPN ), Branch Office VPN and VPN Management Services.
Cisco Firewall, Watch Guard Firewall, Fortigate Firewall, Firewall companies in India, Firewall company India, firewall installation company in delhi, firewall solutions, hardware based firewall provider, network firewall India
Managed Firewall Support for Fortinet's Fortigate Firewalls, Cisco Fire Power Firewalls, Sonicwall Firewalls, Barracuda Firewalls, H3C Firewalls, Check Point Firewalls, Paloalto Firewalls, Cyberoam Shohos Firewalls, Juniper Firewalls, Forcepoint Firewalls, Huawei Firewalls, Watchguard Firewalls, Hilstone Firewalls
Please keep in mind here at IT Monteur, you are also paying for Delightful Support available to you 24 hours a day, more than just only device & license fees.
Support Level:
-Full Managed Support for your account
-Full Support Team Dedicated to Your Account
-24 x 7 x 365 Live Support & Expertise
-Immediate Response to Emergency Support Tickets
-Microsoft, Redhat, Cisco, All type of Firewall Security certification, Ethical Hacking Certified with 10+ years experienced Professionals
Due to a wrong firewall policy, your network cloud be down, and if it is down for 1 hour, on a 100 user setup company will loss of 100 man hours or there may be a hardware failure, for this we would also suggest with go for 2 device and set it with cluster, so that downtime will be less.
we are a complete IT solution provider, if there is any issue with server and need to work with firewall, it will not get hold up due to server issue, we have extensive IT Infra management skills, serer management expertise, and we would be fix it for you.
We don't believe that the other re-seller provider that can provide all of the above for the less price to take care of your firewall security of your company to run 24 x 7 x 365
Hence our price which ensures the availability of support technicians at any time of the day and year.
We have so many other things that we provide on the backside, sometimes we know it's hard to truly understand what you are paying for when a price is quoted. Once again, it is not just the device & license, it is all the support and services that we provide 24 x 7 x 365.
Many customer do not understand gimmick/lie marketing tricks of companies, in web hosting industries, many company sell UNLIMITED SPACE , There is nothing like unlimited anything. Its just a marketing gimmick/lie.
We do not sell Unlimited space, we are still selling 100MB space, http://www.itmonteur.net/web-solutions/managed-web-hosting/linux-web-hosting/
Big companies do marketing in different way, take a example of a simple domain name, a domain name registration https://icann.org/ cost is $10 ( Rs. 680 ), We buy it in $10 ( Rs. 680 ), and even go-daddy buy it in $10 ( Rs. 680 ), but go-daddy sell it in $3 ( Rs.200 ), customer get attract and go with go-daddy, but when next year renewal go-daddy charge them just double $20 ( Rs.1360) year on year even renewal  cost is same $10 ( Rs. 680 )
similarly in firewall case, if a vendor selling in just cost to cost without any profit margin, their intention is different, you can not renew the license with other vendor easily, as firewall OEM company's first preference for the renewal is the first partner who has sold it.
Analise it properly before you chose a vendor.
Guarantees: Stand by firewall provided within 24hour ( Delhi/NCR ) in case of hardware failure
We hope this information helps. Please don't hesitate to contact us if you have any more questions.
Sales :+91 958 290 7788 | Support : 0120 2631048