Tag Archives:
Firepower 9300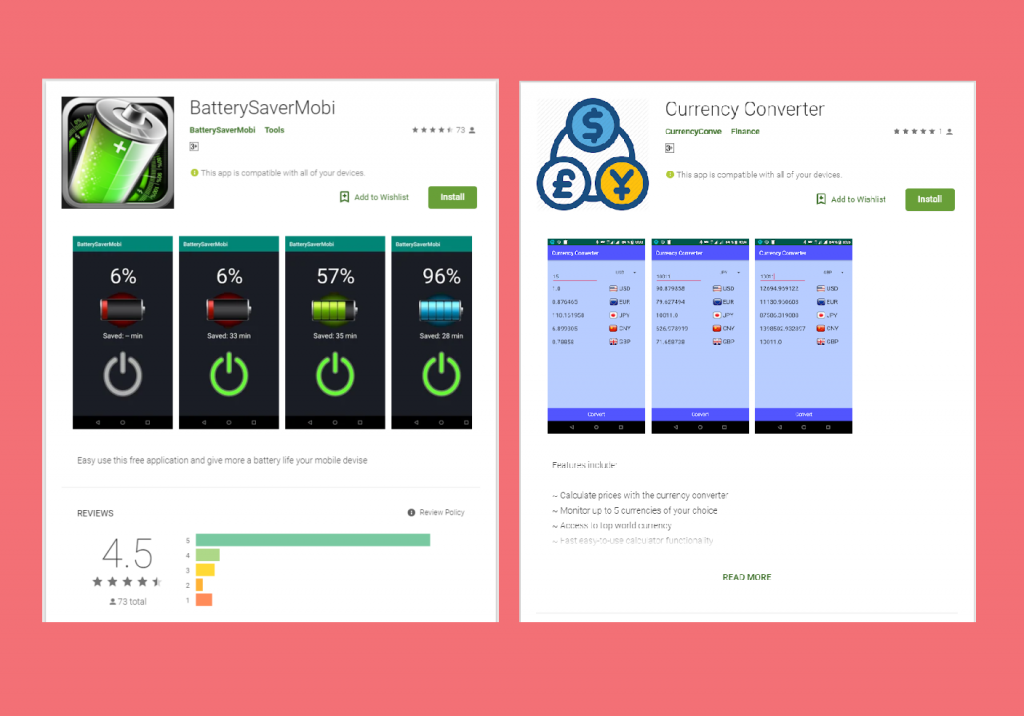 Even after so many efforts by Google for preventing its Play Store from malware, shady apps somehow managed to fool its anti-malware protections and get into its service to infect Android users with malware.

Two such Android apps have recently been spotted on the Google Play Store by security researchers with the Trend Micro malware research team, infecting thousands of Android users who have already downloaded them with banking malware.

The apps in question masquerade as a currency exchange app called Currency Converter and battery saver app called BatterySaverMobi, and are using motion-sensor inputs of infected Android devices to monitor them before installing a dangerous banking Trojan called Anubis.
The malicious Android apps, with a large number of fake five-star reviews, use this clever trick instead of traditional evasion techniques in order to avoid detection when researchers run emulators (which are less likely to use sensors) to detect such malicious apps.
Not Just Motion Detection…There's More

If the user approves the fake system update, the in-built malware dropper uses requests and responses over legitimate services including Twitter and Telegram to connect to its required command and control (C&C) server and downloads the Anubis banking Trojan on the infected device.
Once compromised, the Anubis banking Trojan obtains users' baking account credentials either by using a built-in keylogger or by taking screenshots of the users' screen when they insert credentials into any banking app.
Usually, banking Trojans launch a fake overlay screen on the top of bank account login pages to steal banking credentials.

According to the Trend Micro researchers, the latest version of Anubis has been distributed to 93 different countries and targets users of at least 377 variations of financial apps to extract bank account details.

The banking Trojan also has the ability to gain access to contact lists and location, send spam messages to contacts, call numbers from the device, record audio, and alter external storage.

Google has since removed the two malicious apps from its Play Store. Although it is a never-ending concern, the best way to protect yourself from such malware is to always be vigilant when downloading applications even from Google's official Play store.

Most importantly, be careful which apps you give administrative rights to, as it is a powerful permission that can provide full control of your device.
Cisco Next-Generation Firewall Providers in India
Stop threats, see what's happening on your network, and reduce costs with our threat-focused next-generation firewall appliances. Security designed to work together. Simplify security complexity. Keep business more secure. Make IT more productive.
Detect and stop threats better with Cisco cyber security products
ASA 5500-X with FirePOWER Services
Small business, branch office, enterprise
Firewall throughput from 256 Mbps to 15 Gbps
Threat inspection from 125 Mbps to 30 Gbps
Stateful firewall, AVC, NGIPS, AMP, URL
Cisco Firepower 2100 Series
Superior business resiliency and protection
Gain business resiliency through superior security with sustained performance. The Firepower 2100 Series has an innovative dual multicore CPU architecture that optimizes firewall, cryptographic, and threat inspection functions simultaneously. Now, achieving security doesn't come at the expense of network performance.
Internet edge to data center environments
Firewall throughput from 1.9 Gbps to 8.5 Gbps
Threat inspection from 1.9 Gbps to 8.5 Gbps
Stateful firewall, AVC, NGIPS, AMP, URL
Cisco Firepower 4100 Series
Better security, faster speeds, smaller footprint
Stop more threats with our fully integrated next-generation firewall (NGFW) appliance. The 4100 Series' 1-rack-unit size is ideal at the Internet edge and in high-performance environments. It shows you what's happening on your network, detects attacks earlier so you can act faster, and reduces management complexity.
Internet edge, high-performance environments
Firewall throughput from 20 Gbps to 60 Gbps
Threat inspection from 10 Gbps to 20 Gbps
Stateful firewall, AVC, NGIPS, AMP, URL
Cisco Firepower 9000 Series
Modular security platform for service providers
This carrier-grade next-generation firewall (NGFW) is ideal for data centers and other high-performance settings that require low latency and high throughput. Deliver scalable, consistent security to workloads and data flows across physical, virtual, and cloud environments. With tightly integrated services, the Firepower 9000 Series lowers costs and supports open, programmable networks.
Service provider, data center
Firewall throughput up to 225 Gbps
Threat inspection up to 90 Gbps
Firewall, AVC, NGIPS, AMP, URL, DDoS
Cisco Firewall Price

| | |
| --- | --- |
| Cisco Firewall Price | Price |
| Cisco Firewall ASA5506 with Subscription L-ASA5506-TAMC-1 Year | Rs. 95,580/- |
| Cisco ASA 5516-X with FirePOWER services, 8GE, AC, 3DES/AES with 3YR  FirePOWER services | Rs. 2,30,000/- |
| | |
| Cisco ASA5508 FirePOWER IPS, AMP and URL 3YR Subs |   Rs. 2,67,262/- |
| Cisco ASA5516 FirePOWER IPS, AMP and URL 3YR Subs | Rs. 3,67,262/- |
For Any type of Cisco Firewall Security and Support, Please call us on
Sales :+91 958 290 7788
Support : 0120 2631048