Tag Archives:
list of firewall vendors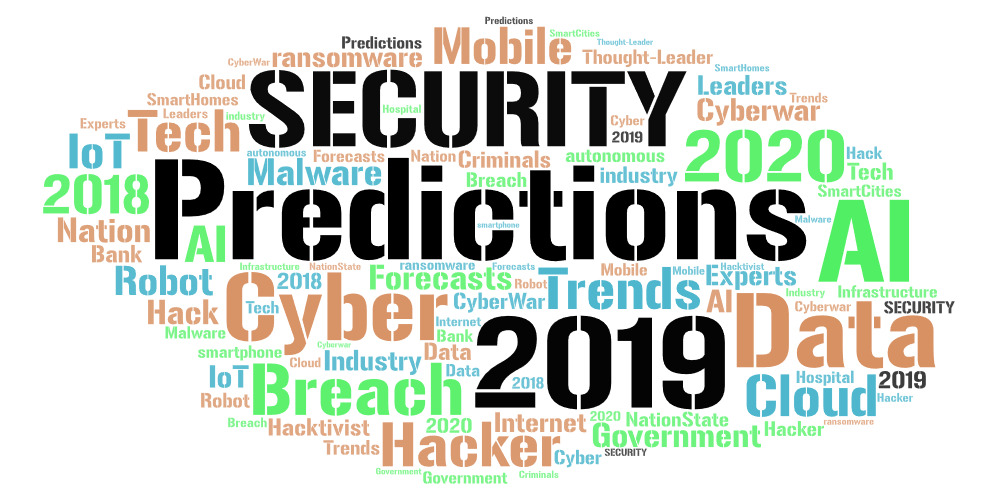 As you think about how to deploy in advance of a new year of cyber threats, here are the trends and activities most likely to affect your organization
In anticipating the major cyber security and privacy trends for the coming year, you can find plenty of clues in the events of the past 12 months. Among the now familiar forms of attack, cyber hacks of major corporate systems and websites continued in 2018 and will inevitably be part of the 2019 cyber security scene. Many well-known organizations around the world suffered significant breaches this year. The single largest potential data leak, affecting marketing and data aggregation firm Exactis, involved the exposure of a database that contained nearly 340 million personal information records.
Beyond all-too-common corporate attacks, 2018 saw accelerated threat activity across a diverse range of targets and victims. In the social networking realm, Facebook estimated that hackers stole user information from nearly 30 million people. A growing assortment of nation-states used cyber probes and attacks to access everything from corporate secrets to sensitive government and infrastructure systems. At the personal level, a breach into Under Armour's MyFitnessPal health tracker accounts resulted in the theft of private data from an estimated 150 million people.
So, what can we expect on the cyber security front in the coming year? Here are some of the trends and activities most likely to affect organizations, governments, and individuals in 2019 and beyond.
List of Firewall appliances Company in India
In general, a computer appliance is a computing device with a specific function and limited configuration ability, and a software appliance is a set of computer programs that might be combined with just enough operating system (JeOS) for it to run optimally on industry standard computer hardware or in a virtual machine.
A firewall appliance is a combination of a firewall software and an operating system that is purposely built to run a firewall system on a dedicated hardware or virtual machine. These include:
embedded firewalls: very limited-capability programs running on a low-power CPU system,
software-based firewall appliances: a system that can be run in independent hardware or in a virtualised environment as a virtual appliance
hardware-based firewall appliances: a firewall appliance that runs on a hardware specifically built to install as a network device, providing enough network interfaces and CPU to serve a wide range of purposes. From protecting a small network (a few network ports and few megabits per second throughput) to protecting an enterprise-level network (tens of network ports and gigabits per second throughput).
The following table Lists of TOP Firewall Companies in India, different Hardware / Software firewall appliances lists.
List of TOP Firewall Companies in India
Firewall
License
Cost
OS

Check Point

Proprietary
Included on Check Point
security gateways
Proprietary operating system Check Point IPSO
and Gaia (Linux-based)

FortiGate

Proprietary
Included on all Fortigate
devices
Proprietary, FortiOS

Palo Alto Networks

Proprietary
Included on Palo Alto
Networks firewalls
Proprietary operating system PANOS

WatchGuard

Proprietary
Included on all
WatchGuard firewalls
Proprietary operating system

Sophos

Proprietary
Included on Sophos UTM
Linux-based appliance

Cisco Asa Firepower

Proprietary
Included on all CISCO
ASA devices
Proprietary operating system

Cisco PIX

Proprietary
Included on all CISCO
PIX devices
Proprietary operating system

Forcepoint

Proprietary
Included on Intel Security Appliance
Linux-based appliance

Juniper SSG

Proprietary
Included on Netscreen
security gateways
Proprietary operating system ScreenOS

Juniper SRX

Proprietary
Included on SRX
security gateways
Proprietary operating system Junos

Sonicwall

Proprietary
Included on Dell appliance
Proprietary operating system SonicOs

Barracuda Firewall

Proprietary
Included Firewall Next Generation appliance
Windows-based appliance
embedded firewall distribution

Cyberoam

Proprietary
Included Firewall Sophos appliance
Windows-based appliance
embedded firewall distribution
D-Link
Proprietary
Included Firewall DFL
Windows-based appliance
embedded firewall distribution
Endian Firewall
Proprietary
Free / Paid
Linux-based appliance
Opendium Iceni
Proprietary
Free / Paid
Linux-based, with optional web filtering / auditing.
IPCop
GPL
Free / Paid
Linux-based appliance
firewall distribution

pfSense

ESF/BSD
Free / Paid
FreeBSD-based appliance
firewall distribution
IPFire
GPL
Free / Paid
Linux/NanoBSD-based appliance
firewall distribution
Untangle
GPL
Free / Paid
Linux/NanoBSD-based appliance
firewall distribution
Zeroshell
GPL
Free / Paid
Linux/NanoBSD-based appliance
firewall distribution
SmoothWall
GPL
Free / Paid
Linux-based appliance
embedded firewall distribution
WinGate
GPL
Free / Paid
Windows-based appliance
embedded firewall distribution
Calyptix Security
BSD
Free
OpenBSD-based appliance
firewall distribution
Halon Security
BSD
Free
OpenBSD-based appliance
Vantronix
BSD
Free
OpenBSD-based appliance
Firewall Firm is a Best Firewall Provider Company in India
For Any type of Firewall Security and Support, Please call us on
Sales :+91 958 290 7788
Support : 0120 2631048