Tag Archives:
SonicWall TotalSecure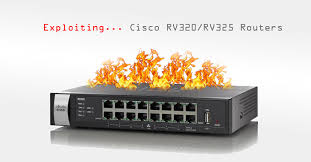 If the connectivity and security of your organization rely on Cisco RV320 or RV325 Dual Gigabit WAN VPN routers, then you need to immediately install the latest firmware update released by the vendor last week.
Cyber attackers have actively been exploiting two newly patched high-severity router vulnerabilities in the wild after a security researcher released their proof-of-concept exploit code on the Internet last weekend.
The vulnerabilities in question are a command injection flaw (assigned CVE-2019-1652) and an information disclosure flaw (assigned CVE-2019-1653), a combination of which could allow a remote attacker to take full control of an affected Cisco router.
The first issue exists in RV320 and RV325 dual gigabit WAN VPN routers running firmware versions 1.4.2.15 through 1.4.2.19, and the second affects firmware versions 1.4.2.15 and 1.4.2.17, according to the Cisco's advisory.
Both the vulnerabilities, discovered and responsibly reported to the company by German security firm RedTeam Pentesting, actually resides in the web-based management interface used for the routers and are remotely exploitable.
CVE-2019-1652—The flaw allows an authenticated, remote attacker with administrative privileges on an affected device to execute arbitrary commands on the system.
CVE-2019-1653—This flaw doesn't require any authentication to reach the router's web-based management portal, allowing attackers to retrieve sensitive information including the router's configuration file containing MD5 hashed credentials and diagnostic information.
 
The PoC exploit code targeting Cisco RV320/RV325 routers published on the Internet first exploits CVE-2019-1653 to retrieve the configuration file from the router to obtain its hashed credentials and then exploits CVE-2019-1652 to execute arbitrary commands and gain complete control of the affected device.
Researchers from cybersecurity firm Bad Packets said they found at least 9,657 Cisco routers (6,247 RV320 and 3,410 RV325) worldwide that are vulnerable to the information disclosure vulnerability, most of which located in the United States.
The firm shared an interactive map, showing all vulnerable RV320/RV325 Cisco routers in 122 countries and on the network of 1,619 unique internet service providers.
Bad Packets said its honeypots detected opportunistic scanning activity for vulnerable routers from multiple hosts from Saturday, suggesting the hackers are actively trying to exploit the flaws to take full control of the vulnerable routers.
The best way to protect yourself from becoming the target of one such attack is to install the latest Cisco RV320 and RV325 Firmware release 1.4.2.20 as soon as possible.
Administrators who have not yet applied the firmware update are highly recommended to change their router's admin and WiFi credentials considering themselves already compromised.

SonicWALL Firewall

SONIC WALL Firewall Provider in Delhi – India
IT Monteur is one of the leading dealers in Delhi – India for SonicWALL firewall. We deals with all SonicWALL firewall products with best price. SonicWALL firewall is the best defense against internet security threats and controls the data to the internet.
Buy Hardware Appliance UTM Firewall from Delhi – India based authorized Dealer, Partner, Supplier, Reseller with remote, on-site installation support  in India at best price.
We are Providing our Antivirus, Antispam solutions Services all over India like  in Delhi, Noida, Ghaziabad, Gurgaon, Kolkota, Bangalore, Mumbai, Chennai, India. To buy our Firewall Service contact us.
Features
Deep Packet Inspection
Wireless Networking
Network Content Filtering
Unified Threat Management
Virtual Private Networking
Application Control
SonicWALL Firewall products:
SonicWALL TZ Firewall
SonicWALL TZ Firewalls
The SonicWALL TZ Series is the ideal total security platform for home, small and remote/branch offices, providing a compelling blend of ease-of-use for basic networks and unsurpassed flexibility It is small business firewall gives enterprise security with unified threat management firewall platform delivering multi threat protection to home, small business, office. It is easy to use solution at low cost.
SonicWALL TZ 105
 5 Fast-Ethernet Ports
 5 VPN Tunnels
 5 SSL VPN Clients
 Supports 802.11 b/g/n
 Optimized for DSL /
 Cable / FIOS
SonicWALL TZ Firewall having various TZseries of firewalls and we deals with all of them with best price .
SonicWALL NSA UTM Firewall
SonicWALL NSA UTM Firewall is best to use for Small Medium Business networks. The SonicWALL NSA UTM firewall against a comprehensive array of attacks, with advanced routing, state full high-availability and high-speed VPN technology, the NSA Series adds security, reliability, functionality and productivity to branch offices, mid-size business.
SonicWALL TZ Firewall having various NSA UTMseries of firewalls and we deals with all of them with best price .
SonicWALL Firewall Models by Users
| | | |
| --- | --- | --- |
| Model | Concurrent user | Older version |
| SOHO | 30—45 USERS | (TZ100, TZ105) |
| TZ300 | 50 TO 80 USERS | (TZ210, TZ215) |
| TZ400 | 80—110 USERS | (NSA240, NSA220) |
| TZ500 | 110 TO 160 USERS | (NSA250M) |
| TZ600 | 160 TO 220 USERS | |
| NSA2650 | 220 TO 300 USERS | (NSA2400) |
| NSA3650 | 300 TO 500 USERS | (NSA3500) |
| NSA4600 | 500 TO 800 USERS | (NSA4500) |
| NSA5600 | 800 TO 1500 USERS | (NSA5500) |
| NSA6600 | 1500 to 3000 users | (NSA6500) |
SonicWALL Firewall Price
Model
Concurrent user
Price

SOHO 250
SonicWALL SOHO 250 UTM Firewall Appliance with TotalSecure 3 Year License
For Home/Small Office upto 45 users

30—45 USERS
Rs.65,395/- + GST Extra
TZ300
50 TO 80 USERS
TZ400
80—110 USERS
TZ500
110 TO 160 USERS
TZ600
160 TO 220 USERS
NSA2650
220 TO 300 USERS
NSA3650
300 TO 500 USERS
NSA4600
500 TO 800 USERS
NSA5600
800 TO 1500 USERS
NSA6600
1500 to 3000 users
TZ Entry-level Firewall Series
A high-performance integrated threat prevention platform for small/medium organizations and distributed enterprises
PERFORMANCE OPTIMIZED. SOHO 250 AND TZ350 SERIES.
Get lightning fast performance with security processors optimized for speed
Gain a deeper level of threat prevention through Machine Learning
Leverage shared threat intelligence for continuously-updated security
Get your firewall up and running quickly with Zero-Touch Deployment
Manage everything from one location with Capture Security Center
Guaranteed SonicWall Firewall Support Services
Firewall Firm an IT Monteur Company has been providing professional, comprehensive technical services to our clients.  Over the years we have gained more SonicWall certifications and real-world experience than any other SonicWall solution provider in the India.  We have made these solution-solving skills available to you in order to maximize your SonicWall investment, resolve problems quickly and provide you with the tools you need to succeed.
Benefits of our Services Include
» All Techs are SonicWall Certified
» Includes 100% Money-Back Guarantee
» Over 20 years of Combined Experience
» Help is Available Now!
For Any type of SonicWall Firewall Security and Support, Please call us on
Sales :+91 958 290 7788
Support : 0120 2631048