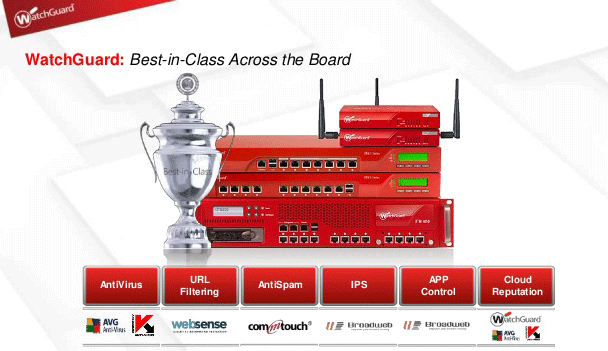 WatchGuard's Solutions
Our unique approach to network security focuses on bringing best-in-class, enterprise-grade security to any organization, regardless of size or technical expertise. Ideal for SMB, Midsize, and Distributed Enterprise organizations, our network security appliances are designed from the ground-up to focus on ease of deployment, use, and ongoing managing in addition to providing the highest security possible.
Not only does WatchGuard offer the greatest collection of network security services on a single platform, we do so in a way that has proven to be the most agile, able to adapt to new and evolving threat vectors faster than any other solution on the market.
We are a security company and we want the best protection for every customer, every time. As such, we strongly recommend the adoption of our full security suite. When running our Total Security Suite, our Firebox network security appliances offer the strongest security against network threats. However, every Firebox can be purchased as a standalone NGFW appliance as well, however, we never recommend the deployment of an NGFW without other security mechanisms in place. The best approach to security is a layered approach.

WatchGuard Firewall Price

Watch Guard Firewall
Price
WatchGuard Firewall Firebox T10 with 1-Year Total Security Suite
( For 5 User )
Rs. 43,520/-
WatchGuard Firewall Firebox T30 with 1-Year Total Security Suite
( For 20 User )
Rs. 86,020/-
WatchGuard Firewall Firebox T50 with 1-Year Total Security Suite
( For 35 User )
Rs. 1,36,000/-
WatchGuard Firewall Firebox M200 with 1-Year Total Security Suite
( For 60 User )
Rs. 1,81,220/-
WatchGuard Firewall Firebox M300 with 1-Year Total Security Suite
( For 150 User )
Rs. 2,58,060/-
For more details just call or email us on
Phone:+91 9582907788 Email: sales@itmonteur.net